Guardians Coordinators Organisations
Fast and seamless care at your fingertips
mobility makes it easy to connect to thousands of verified carers, allied health professionals, domestic helpers and registered nurses from your phone. With streamlined browsing, booking, scheduling, live appointment tracking, compliance, plan management and invoicing all in one place, it's a free-to-use mobile app that will revolutionise the way you coordinate care for your loved one or clients.
With mobility you can:
Browse, book and schedule supports from your phone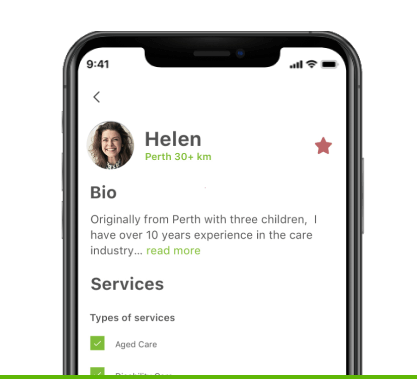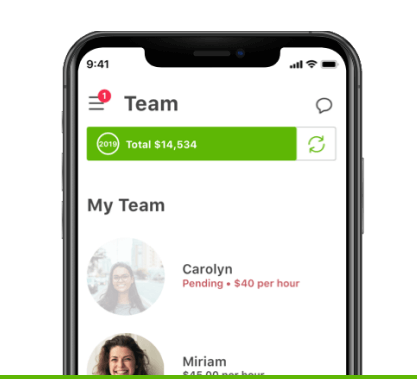 Manage budgets, including private and NDIS funding
Enjoy streamlined, compliant invoicing with every service pre-coded with the relevant NDIS code
Workers rates and entitlements are calculated for you, in-line with the relevant award.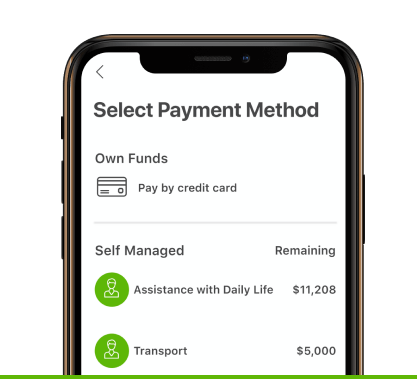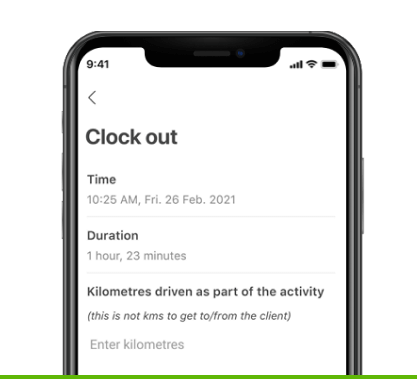 Save time and prevent disagreements with automatically time-stamped shifts
Manage OH&S documents and compliance within the app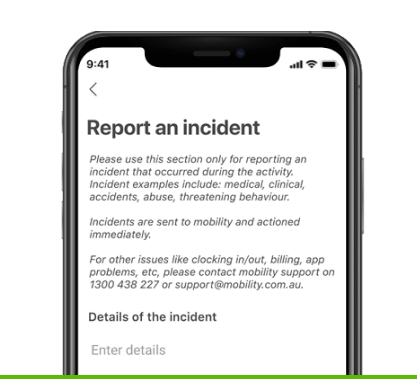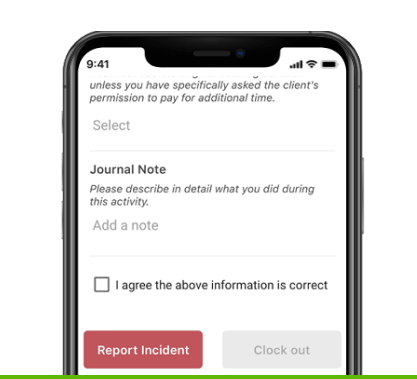 Track NDIS goals with up-to-date notes from support workers at the end of every shift
Sign up as a Support Coordinator to add all your clients in the app, or oversee all of your loved ones' supports as a Guardian/Nominee. Using mobility, you can compare, chat to and book local carers in your client's local area and track them in real-time when they attend bookings. 
Our team will connect with you to ensure funds are available and correctly provisioned for use, so you can make bookings and automatic payments with ease.
Free meet and greets make it simple to find a good match, and if required, you can easily schedule team shifts for ongoing support.

Can't find the support worker you need?
Reach out to our talent search team who have access to over 20,000 registered support workers.
Our knowledgeable client support team will be there to make your life easier. Whether you need help getting set-up, finding a support worker, or navigating the booking system, you'll always find someone who knows your name on the other end of the phone. We'll be with you every step of the way to provide guidance and advice.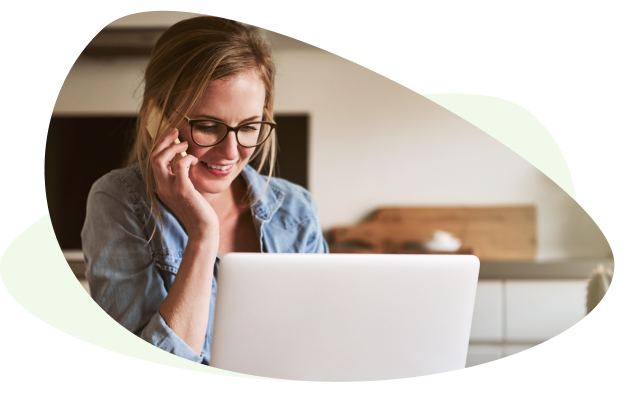 The Mobility app has been so helpful in sourcing and booking support for NDIS participants. The filters and information about workers are really useful in ensuring we are able to match up participants with the right support and the right workers based on their preferences and needs. The team behind the app are extremely responsive and efficient and always happy to help. Highly recommend.
Fatma

Safety first
Safety is our number one priority! mobility performs extensive verification and identity checks, so you and your loved ones or clients can enjoy the complete peace of mind of knowing that compliance and security are assured.
Strict verification process
Car registration checks
Comprehensive insurance coverage
Free mandatory training
Geo-tracked timesheets
Panic alarm
Secure digital wallet
How it works
mobility offers end-to-end care service delivery inside a convenient, easy-to-use mobile app, so you're not tied up with administration. It's simple to get set up and find, book and manage local carers offering the services your loved ones or clients' need. Our support team can help you get started. Check out the steps below.

1. Build
Download the mobile app and set yourself up as a Nominee, this enables you to book supports for multiple participants. All of your client's details, and bookings with workers, can easily be managed in one place. You can switch effortlessly between each of your Participants to book supports, check schedules, budgets and more.

2. Browse
Start searching for available workers in your client's area. With mobility you can search by location, time, care and support type and select gender preferences, which means you'll only see workers who fit your criteria. You can check out their qualifications and hourly rate on their profile and favourite workers you like, so they're easy to come back to.

3. Book
Tap on the 'Book Now' button or set up a free meet and greet for your Participant and the worker to send an activity request. You can finalise your booking by giving the booking a name, confirming the date and time details and adding any relevant notes.

4. Manage
With smart tools like collaborative calendar management for support teams, location-based browsing and real-time tracking and invoicing, managing care just got a lot more modern and intuitive.
When you sign-up to the app, one of our friendly client relationship consultants will be there to walk you through the entire process and answer any questions you might have along the way.
You can also find out more about mobility at our
Help Centre
.
Download now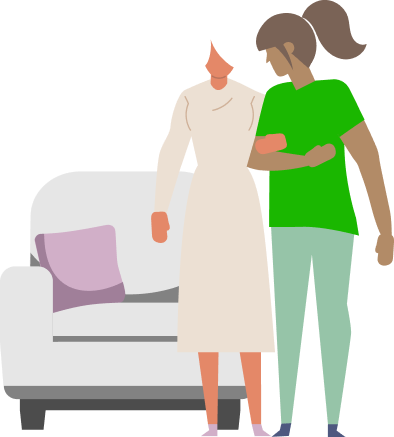 mobility Services
Find support in a range of fields including aged care, disability care, babysitting, home care and therapy.
Core Supports
Find and instantly book local carers that can perform tasks to assist your clients or loved ones with daily activities. From household cleaning and maintenance, to assisted transport, therapy, meal preparation and much more, you'll find all the services your clients' need readily available within the app.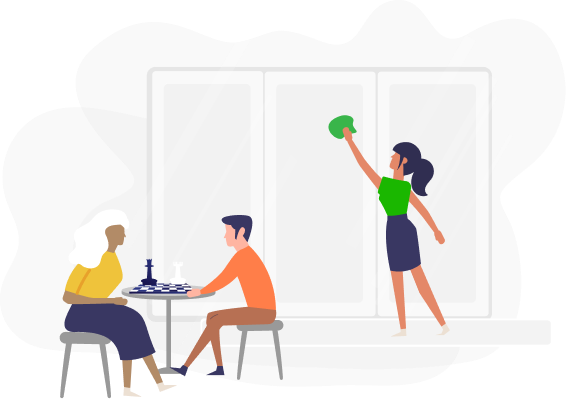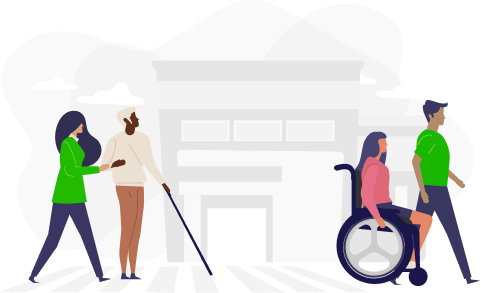 Specialised Supports
With mobility it's easy to find and book a range of specialised support services for your clients. Connect your clients or loved ones with skilled carers and registered nurses trained and experienced in performing tasks like behaviour management, catheter care, mealtime management and PEG feeding, diabetes injections and more.
Allied Health
Get access to a range of allied health professionals in your client's area, including Occupational Therapists, Dietitians,  Physiotherapists, Psychologists, Speech Therapists, Social Workers and many more.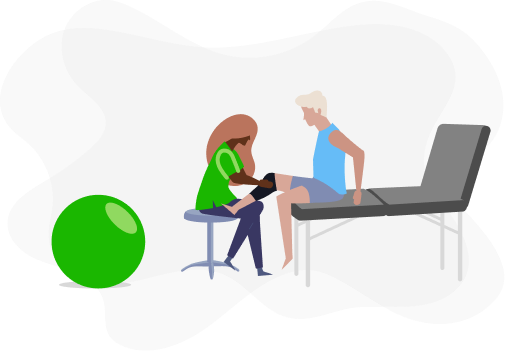 Transparent and affordable pricing
mobility makes it easy for your clients or loved ones to get more support for their budget, and simple for workers to earn more. Rates are agreed directly with your chosen providers and we make sure that all the rest is taken care of, including insurance, tax, payroll and superannuation fees.
Our rates are typically well below the NDIS price cap.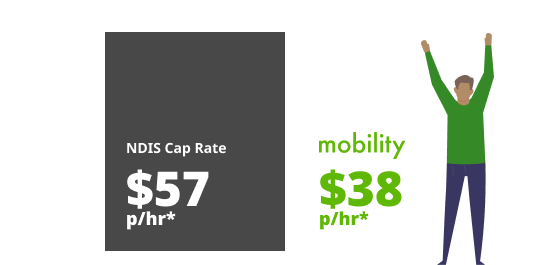 * Based on average rate as calculated nationally across disability carers on the 1st of July: $38.00. NDIS price cap figure is based on national maximum hourly cost for assistance with daily life (daytime) in the 2020-2021 NDIS price guide. There are no minimum budget levels and our minimum time for a shift is one hour. You can see our full terms of service here.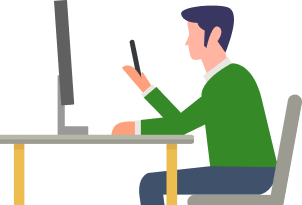 Choice and control. mobility makes it easy.
mobility is designed to put the control back in your hands. Provide your clients or loved ones with a simple, seamless solution that will improve their daily lives. Here are a few reasons why you should be managing your clients with the app.
The future of care management is here. mobility is designed to make it faster and simpler to manage all your clients needs by making it possible to browse, book and pay for care all in one place. Rather than spending hours managing contractors or handling invoices, you can search for registered providers and independent contractors within the app. It's simple to filter to see who's local, available and most relevant, allowing you to optimise the booking process. Once you've found some you like, you can book instantly and automatically make payments with NDIS funding or credit cards. With a reduced administrative burden, you'll spend less time on paperwork and have more time to focus on the things that matter – providing the best level of care to your clients!
mobility is built around an active and growing community of clients and passionate carers. Engage and chat directly with carers before you book in the in-app messenger and build a support team that perfectly meets your clients' needs. It's a platform that works for everyone. Allowing you to find the resources you need, when you need them and making it simpler for carers to balance their workloads and earn money. The streamlined process helps more carers to find work, increases productivity and efficiency in the care sector and means better support for your clients. It's a platform that makes it easy for participants and carers alike to easily communicate and provide feedback, this ensures that things will only keep getting better. With more and more people joining mobility each day, we can't wait to see what the future holds.
mobility is more than just an app, it's an amazing tool to empower people with disability and their loved ones, as well as carers and support or local area coordinators. It's already redefining the way support delivery is managed and giving a voice to the care community, and with your support we'll continue to build a system that's exactly what you need it to be. Tell us what's working for you and what's not, we're here to listen.

Highly recommend to all
Excellent service and response time. Very happy with this service. Highly recommend to all.
– AngelaTaylor

This makes organising care a breeze
It only took me one minute to sign up. Easy. Selection of workers in my area is great. Love the ability to choose different funding types between NDIS and credit card. I can mix and match as needed. What is really cool is that I can book people instantly without any agreements or negotiating with the worker. Too easy.
– Anailmkooc

I'm so glad I found mobility
Their staff are super friendly and helpful and have been so vital for me whilst I am returning to work. No job is ever too hard for them. They also have amazing staff in the office that are always ready to help with your enquiries. Give them a try you won't regret it.
– ErinEM